Buy this at Home Of Poi

Description
[ written 2011.11 ]
New fire poi from HOP!
I am surprised that this poi last fire so long!
Twista poi doesn't have huge fire like Isis poi, but last much longer.
Start with big fire and last middle big fire for 5 mins or so. then small fire last another couple of mins.
I was surprised that I was be able to spin with full speed on my Deepforest routine and this poi still had fire after the perfromance. It didn't happen last couple of years. Even Isis poi couldn't hold fire with my deepforest routine.
So if you are looking for fire poi at HOP, this is the one for you!
Poi set is also available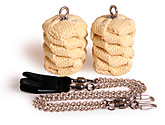 Specifications
All hardware is made from heat resistant stainless steel.
Strong 4mm eyebolt.
Wick height 85mm, with eyebolt total height 100mm
Total of 16ft (4800mm) of 1 x 1/4 inch long life Kevlar tape.
Excellent fuel storage for large flames and long burn times.
Our best value for money fire head.
Weight: 320gm per pair.
Free fire safety guide, fuel information, how to light and extinguish tools, and tips on use.
Buy this at Home Of Poi

Related Gears