Home
> Let's start spinning Poi!
Let's start spinning Poi!
Get your own Poi set!
You can make Poi by yourself. Watch the video and find your favorite poi!
You can buy Poi at Home of Poi. They sell lots of great Poi ! I keep reviewing shops and Poi which I have used at Poishop pages, so please visit them.
Check out Poi shops.
Names

A Head
B Chain, String, Code
C Handle
How to hold your poi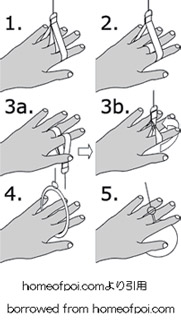 Well, there are many kinds of poi handles. Here is a sample of way of holding handle.
This is just a sample, you can find your own favorite handle and holding!
* I borrowed this picture from Home of Poi.

Length
You can make poi shorter during spining, but you can not make poi longer than poi it self. So I recommend you to set your poi length Maximum, which doesn't hit ground. I set poi length at around ankle.
Let's Spin Poi!!
You ready? Let's go out and spin poi !
You can watch poi lesson videos on Online Leson for free. You can download videos if you sign up poicommunity.com too. It's all for free. Please learn a lot, spin a lot, and give your skill to your friends!
comments powered by

Disqus