Home
> 2011 Japanese Earthquake and Tsunami M9.0
2011 Japanese Earthquake and Tsunami M9.0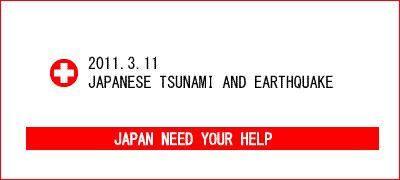 M9.0 Earth quake and massive Tsunami destroy Japan.
I cannot describe all the disaster in English, but this is the worst thing I have ever seen. Japanese life has changed after 3.11. Our life is unstable, earthquake happnes every couple of hours ( I woke up with earthquake today too), electlicity stops area to area since power plants has been hit tsunami either, foods and fuel are getting less even in Tokyo( in Tohoku, it's seriously not enough food and water ). TV, radio, internet, all of medias showing unbilievable videos without any break, it keeps coming up from every where. Everyday we can see the situation more clearly. More voice, video, coming up from the place where Tsunami hit. We all are understanding this is not only about people who were in Tohoku, Kanto or Hokkaido, but we all peopel in Japan are affected with this disaster. We need to help each other, find the way to do it right away. So I decided to let people know about this and ask to donate money to victims. Japanese red cross is still constructing the system of receiving donations, so at this moment, we only can donate other organisations which connect to Red cross. I did sent money to google dontations which will send money to Red cross. So if you saw the situation and think that you want to do something for the victims, please sent money to them. Even if it's small, it will be huge, huge help with all of you. Thank you very much for your time to read this and thinking of us.
following is quated from google crisis report.
A massive 9.0 magnitude earthquake hit the Pacific Ocean nearby Northeastern Japan at around 2:46pm on March 11 (JST) causing damage with blackouts, fire and tsunami. On this page we are providing the information regarding the disaster and damage with realtime updates.
The large earthquake triggered a tsunami warning for countries all around the Pacific ocean.
Massive Earthquakes and Tsunamis hit Japan
Please Dnate to Redcross for helpinng victims.
Japanese Red Cross [ Via google Crisis Report]
More information
Earth Quake map
Photo of Tsunami
You can see photos before Tsunami and after Tsunami.

More Photos
comments powered by

Disqus